Prof. Dr. Ulrich Kühnen
Dr. Kühnen is Professor of Psychology at Jacobs University Bremen and study program coordinator of the "Master Program in Psychology". Before joining Jacobs University in 2003, he studied Psychology at Berlin University of Technology (1989–1995) and received his Dr. phil. from TU Berlin in 1998. After a postdoc stay at the University of Michigan, Ann Arbor, USA (1999–2000), he continued his career as a research associate at the University of Mannheim where he received his Habilition in 2003. In his research Dr. Kühnen investigates how culture affects basic functions of the human mind. How does culture shape the way people tend to define the self? How do different kinds of self-construal in turn affect thinking, feeling, and action? Does the subjective meaning of choice differ between cultures? What is the role of religion in interpersonal perception and interaction? Since 2007 Kühnen is Principal Investigator and member of the academic council of the Bremen International Graduate School for the Social Sciences (BIGSSS). BIGSSS is funded by the DFG as part of the so-called excellence initiative of the Federal Government of Germany. Kühnen co-chairs the thematic field "Changing lives in changing socio-cultural contexts" within BIGSSS. Since 2013 Kühnen is Associate Editor of Social Psychology, one of the most prestigious social psychology journals in Europe. Kühnen is author of the book "Tierisch kultiviert – Menschliches Verhalten zwischen Kultur und Evolution" (2015) and of more than 70 articles and book chapters.
Annette Gisevius is Head of Training at InterCultur. She facilitates intercultural trainings for various target groups, incl. teachers, faculty members and trainers with a focus on cultural awareness, cultural conflict styles and experiential learning in non-formal adult education. She has been working with corporate clients as well as teams in administration or organization in different realms. She holds the recently created Professorship in Civic Engagement, Ethics and Service Learning at Karlshochschule International University. She carries is a Master degree in Culture Studies from Leuphana University, Germany and a BA from Angelo State University in Texas. Annette Gisevius has worked and lived in Germany, Argentina, Chile, and the USA. She completed a formal education as an "intercultural coach", is a certified administrator for the Intercultural Development Inventory (IDI), the Intercultural Conflict Style Inventory, and the Cultural Detective. She is also a certified trainer of Betzavta and TOP (c) (Technology of participation).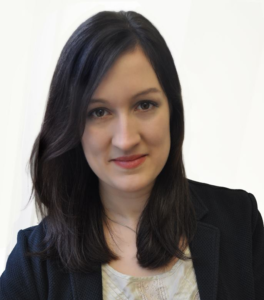 Dr. Nadine Binder
At InterCultur, Nadine Binder is responsible for Intercultural Educational Projects and Trainings. Prior to joining InterCultur, she has worked as a freelance trainer while pursuing her PhD in psychology at the Bremen International Graduate School of Social Sciences (BIGSSS), conducting research on designing and evaluating intercultural competence programs. She holds a bachelors degree in Intercultural Relations and Behavior from Jacobs University Bremen, Germany, a masters degree in Management of Cultural Diversity from Tilburg University, the Netherlands, and a PhD in psychology from the Bremen International Graduate School of Social Sciences. She has received certifications from the Intercultural Communication Institute (ICI) in the U.S. and other learning organizations, is a Senior Facilitator of Personal Leadership and has lived and worked in in various countries. Nadine also is a board member of the Young Society for Intercultural Education, Training and Research (Young SIETAR) as well as an active member of SIETAR Germany and Europe.
Lea Schaumann
Lea Schaumann is an intercultural trainer and project manager at InterCultur. She focusses on organizing and implementing (online) trainings on topics such as cultural sensibility, intercultural communications and conflict management. She is expert in online training and course design and manages a project for international virtual youth exchange. Lea holds a BA in Political Science and East Asian Studies from University of Heidelberg and a Masters degree in Chinese Studies from Leiden University, the Netherlands. Throughout her education, she has spend several years living in China and researching alternative education in different contexts. She started her intercultural training career as a volunteer for AFS Germany, where she has gained experiences with a wide range of cultural and age groups. While studying, she lead pioneer project on informal online learning for the European Federation for Intercultural Learning. Today, Lea is chairing the committee for volunteer training of AFS Germany.