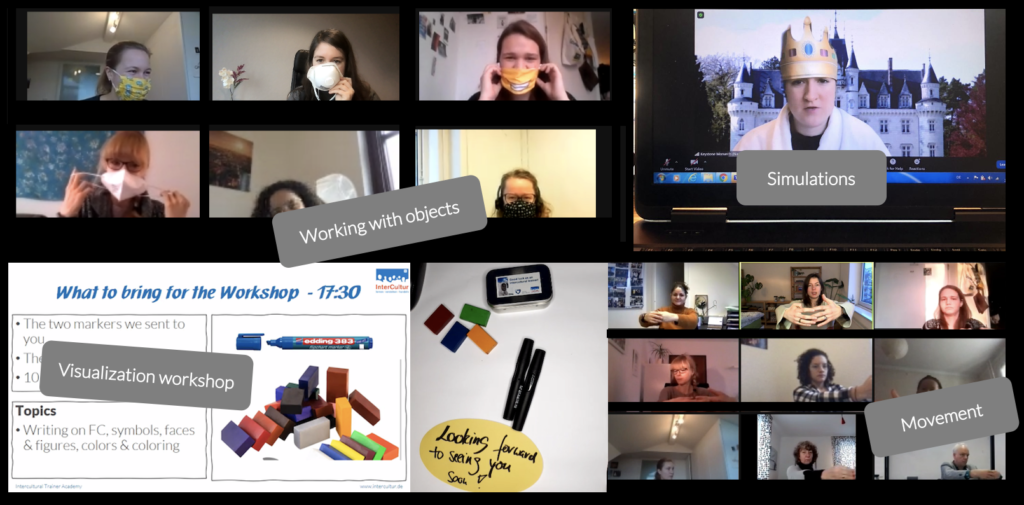 In light of the COVID-19 pandemic, we have decided to offer our Intercultural Trainer Academies in 2021 as virtual events. The virtual event will cover the same content as our previous Intercultural Trainer Academies, you can find more information on the content in our Course Overview.
Please see our "Impressions from the Virtual Edition" page for testimonials and images from our first virtual Intercultural Trainer Academy in January 2021.
Platform & Tools
The virtual Intercultural Trainer Academy uses Zoom meetings for joint training sessions. Participants will receive technical support to make sure everyone feels comfortable and confident about using Zoom. We will also use additional tools to support our learning activities and group processes, such as Padlet, Mural, and others. In addition, we will invite all participants to join our MS Teams Channel as guests. We use that channel for interacting between sessions, sharing materials, and providing information during the Academy. To make best use of these tools, we strongly recommend that participants join the sessions via a laptop, PC or Mac and ensure to use an updated browser. Prior to the start of the program, all registered participants will receive more detailed information on the tools used as well as "how to use…" videos and handouts.
Course Hours & Workload
While course hours remain 9am to 6pm (CET) Monday-Thursday and 9am to 3pm on Friday in both weeks, we will not spent the entire day in live Zoom sessions. We have come up with many creative ways of integrating self-study, self-paced and self-organized work in pairs or small groups, as well as using the physical space around you to incorporate movement and reduce time spent in front of our screens. Participants will receive a small surprise package prior to the course start with additional materials and objects which we will use in class.

Please note: To obtain the Intercultural Trainer Certificate, you need to attend the full program. We offer a rich and diverse program, including optional evening sessions and social events – which is why we strongly recommend to fully focus on the program and avoid distractions, work commitments, or additional appointments as much as possible.
Questions or Comments?
If you have questions or comments about our virtual edition, please get in touch with our trainer Nadine Binder.